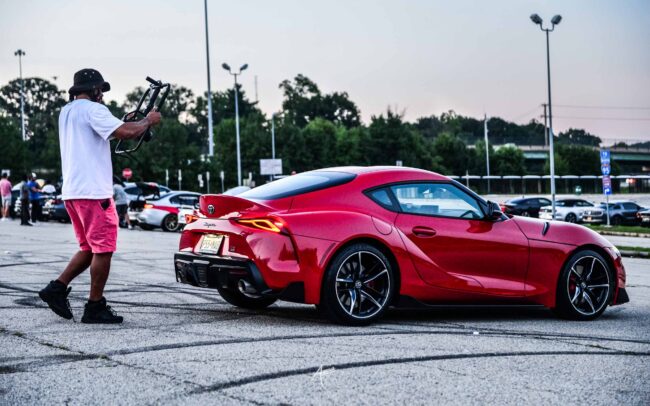 Experienced by Adrian McQueen
Photography Adrenaline Lifestyles
The announcement of the return of the Toyota Supra shook the automotive world, especially the gear heads. Since its' release, I have been around a few of them and the excitement took me back to the early Fast and Furious days. Now that my time has arrived to review it, I am excited to see if the crowd reaction is still the same and how does this resurfaced beast still pack the same punch as its predecessor.
The Toyota Supra is a sports car and grand tourer manufactured by Toyota Motor Corporation beginning in 1978. We are now in the fifth generation of the Supra and it has been produced since March 2019 and went on sale in May 2019. The Supra is assembled alongside the G29 BMW Z4 in Graz, Austria by Magna Steyr. The Supra was unveiled at the January 2019 North American International Auto Show and is a collaboration between Toyota and BMW and is based on the Z4.
Just an example of the excitement of the Supra shown was how the first production model was auctioned at a price of US$2.1 million at a Barrett-Jackson auction to Craig Jackson (chairman and CEO of the Barrett-Jackson auction house) in January 2019. 100% of the sales proceeds went to the American Heart Association and the Bob Woodruff Foundation. What makes this particular so unique is that the auction car has a one-off matte grey exterior color, which is not offered on the production variant of the Supra. There is also red interior, metallic black 5-bolt wheels, red wing mirrors and a signature from Toyota CEO Akio Toyoda on the dashboard and VIN number 20201.
The Supra returned to us fully redesigned but still having a sleek and sporty look. We were able to review a 2020 Toyota GR Supra 3.0 Premium model that was painted in breathtaking Renaissance Red. Upon first look you will notice the premium grade mirrors, 19-inch forged aluminum twin 5 spoke wheels with Michelin Pilot Super Sport tires, "Supra" printed on the front 6-piston calipers with the same font as its rear label, LED exterior lighting and brushed finished dual exhaust tips. You can see similarities to the BMW Z4 but that is expected since Toyota partnered with BMW to develop the GR Supra. The major difference is that the Supra is available exclusively as a fixed-roof coupe, while the Z4 is offered as a soft top convertible.
The interior of the Toyota GR Supra 3.0 Premium that we tested has heated seats, leather upholstery, and a head-up display. It is a 2 seater with more than enough leg room for both passengers. There is also a great infotainment system that is complete with a 8.8 touchscreen multimedia system, standard navigation, wireless Apple CarPlay, 12-speaker JBL stereo sound system, wireless phone charging, color head-up display and heated leather seats.
The Supra 3.0 Premium comes with a 3.0-liter inline six-cylinder engine that has a twin-scroll turbocharger with an eight-speed automatic transmission. The Supra responds to 335 horsepower and 365 pound-feet of torque. The throttle response is immediate when you hit the pedal. The exhaust system growls as you put the Supra to work.  The handling was balanced, steering and throttle were responsive with very strong. Sport mode transforms the Supra from a commuter car to rally ready sports car. Everything is juiced up in Sport mode. Even the exhaust sound.
Safety is a big deal at Toyota and the Supra is equipped with forward collision warning, automatic high beams, automatic emergency braking with pedestrian detection, lane departure warning with steering assist, rain-sensing windshield wipers, a rearview camera and a feature that recognizes road signs as standard.  The US National Highway Traffic Safety Administration announced a safety recall issued by BMW on the Supra for the seat belt guide loop mounts, which were welded improperly. I am accustomed to installing car seats for my two young daughters in each vehicle that I receive, but not this in two seater. This ride is reserved for the adults.
The Toyota Supra sits in a competitive class with vehicles such as the Audi S3, Audi S4, BMW M2, BMW Z4, Honda Type R, Toyota 86, Porsche Cayman and the Mercedes-Benz SLC-Class. The 2020 Toyota GR Supra gets 24 mpg in the city, 31 mpg on the highway and 26 mpg combined. This very good gas mileage in it's class.
There are some great deals to be had on the Supra. Current deals and incentives with Supra are finance deals that are 0% financing for up to 60 months (Expires: 09/30/20) and 0% financing for 60 months (Expires: 09/30/20). The cash back deals with up to $3,500 cash back (Expires: 09/30/20), $4,500 cash back (Northeast), $3,500 cash back (Northwest, Mid-Atlantic, Midwest, South Central, Southwest, Northwest) (Expires: 09/30/20). The 2020 Toyota GR Supra 3.0 Premium that we tested came in $56,220.00. The 2020 Supra comes with a three-year/36,000-mile basic warranty and a five-year/60,000-mile powertrain warranty.
The 2020 Toyota Supra is fun to drive and quite practical for a sports car. I have a couple friends that commute with theirs every day.  The Supra has a comfortable interior and a roomy cargo area. The Supra has smooth handling, good gas mileage, reliable and powerful. The hype is still up around the Supra. I drove the Supra to a few car meets and it was a crowd pleaser. When you pull up in the Supra, just think "Lights, Camera, Action".  Please enjoy my photos.