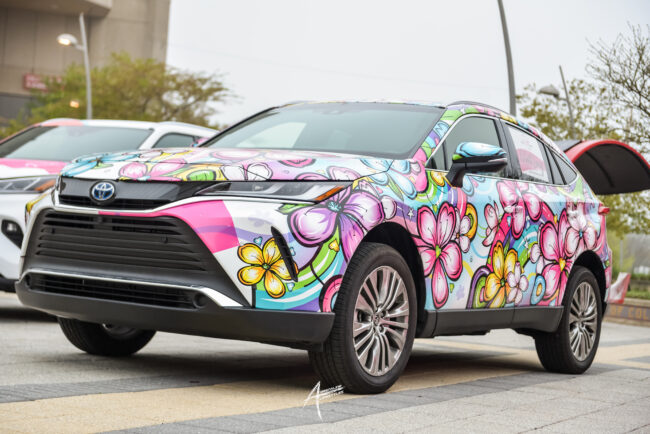 Experienced by Adrian McQueen
Photos by Adrenaline Lifestyles
Many festivals, parades and celebrations have either been cancelled or turned virtual during these COVID times. The Cherry Blossom Festival decided to keep the festival going, but with a twist. A fleet of 10 cars were decorated by local artists and paraded through neighborhoods in DC. This was a part of the the Petal Porch Parade. Decorated porches, yards, windows and balconies throughout all wards in DC were decorated to celebrate the annual festival. The art cars ventured though DC, calling it the inaugural Petal Procession.
The National Cherry Blossom Festival is a time-honored Washington D.C. tradition that occurs every spring to celebrate the blooming of 3,000 Japanese cherry blossom trees that grow along the Tidal Basin. The trees were a gift from Mayor Yukio Ozaki of Tokyo City to Washington D.C., on March 27, 1912.
The painting of the vehicles took place in a parking garage at the University of the District of Columbia (UDC). Ten local artists did a stunning job, adding their artistic touch to each of these 2021 Toyota vehicles for the 2021 National Cherry Blossom Festival. The artists jumped on a double-decker bus, along with a brass band to lead the cars during the Pedal Procession.
You can meet the artists, here
Diana Mayhew, the President and CEO of The National Cherry Blossom Festival, said this is the first year there will be a Petal Procession. The idea came about after the annual parade was canceled due to COVID-19.
It was a great experience meeting up with the artists and Cherry Blossom team at UDC to photograph the vehicles. Many of the artists I already knew due to my involvement in the Art of Motion exhibit at the Washington Auto Show that was curated by Automotive Rhythms. Kudos to Toyota for making this happen and seeing the vision and impact that art has. I am definitely looking forward to seeing how this grows in future year. Please enjoy the photo gallery.