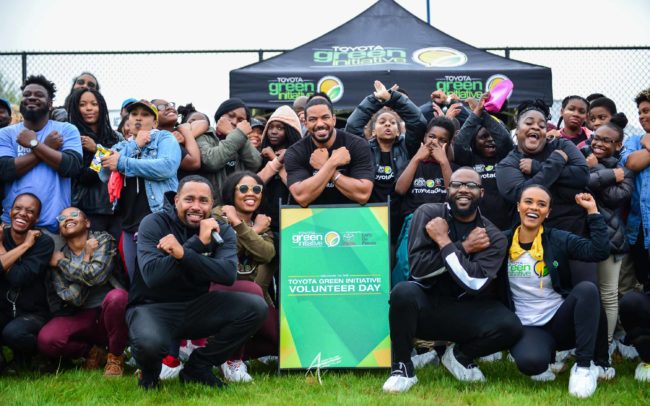 Experienced by Adrian McQueen
Photography by Adrenaline Lifestyles
The rain did not stop volunteers coming out with Toyota Green Initiative, Dreaming Out Loud and the Broccoli City Foundation to help promote sustainability by lending their green thumb at the Kelly Miller Farm at Kelly Miller Middle School.
The Toyota Green Initiative (TGI) is a movement to help you find smart, simple ideas that can make a positive environmental impact in your community and in your life. Working with Historically Black Colleges and Universities (HBCUs) and music festivals, TGI is leading the way to a better tomorrow. Attendees are able to explore some simple ways to help make our world greener.
Volunteers assisted to contributing to the growth of the farm by building raised beds, a trellis network, placing 15 cubic yards of organic compost/topsoil into raised beds and fabric grow bags, planting fruits and vegetables for the upcoming harvest season, trash clean up and assist in maintenance of compost bins. Teachers and students applauded all involved and praised the volunteers' efforts in beautifying their school and community.
All participants received a t-shirt, lunch catered by Tasty Kabobs, a certificate of completion for service credit via the ChipN app. All volunteers also received a free ticket to the sold-out Broccoli City Festival featuring the Migos, Grits & Biscuits, Lightshow, Miguel, Cardi B and many more.
Actor and native of Washington DC, Laz Alonso, became a Toyota Green Coalition Member this year to become an advocate for greener living. Laz strongly expressed in his message to the crowd that he has a passion for the environment, healthy lifestyles and building strong communities. Laz was not there for a few photo ops and social media posts, he worked from beginning to end. He interacted with everyone on site and constantly pumped the crowd up to remember to have fun as we worked the garden.
Pulling up in the 2018 Toyota C-HR was a treat as well. All who approached me about the vehicle unanimously told me they loved the way it looked. I explained that C-HR was stylish, fuel efficient, very reliable and fun to drive. The Toyota C-HR stands out for daily driving in fuel economy, coming in at around 30-ish mpg combined. I believe the C-HR will do well attracting younger buyers and perform as a great daily driver.
It was a great experience to work with Dreaming Out Loud, Inc. (DOL), Broccoli City and Toyota Green Initiative for an Earth Day of Action and to be a part of building one of the City's most unique centers of learning and community impact in urban agriculture. The traditional partnership with the Toyota Green Initiative encouraged event attendees to live the healthiest lives possible. This was an exciting opportunity to participate in a community-based event to support the District's youth. Please enjoy my photo gallery.