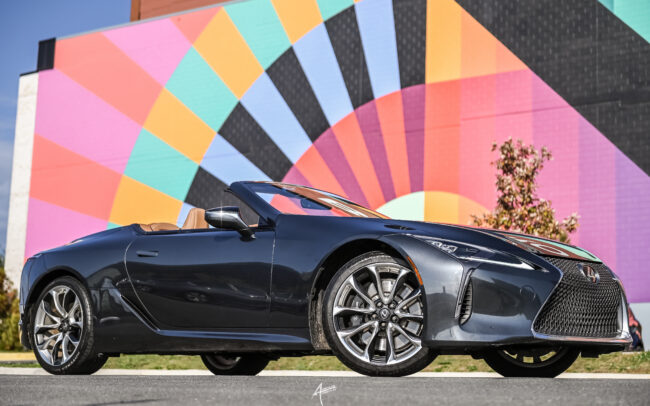 Experienced by Adrian McQueen
Photos by Adrenaline Lifestyles
Excitement has been running high for Wakanda Forever, which is the sequel to the Black Panther. Lexus is starring in this film as it's third collaboration with Marvel Studios. Early screenings and red carpet premieres were taking place at various locations all over the country so we decided to have our own in the (D.C., Maryland, Virginia) area. Adrenaline Lifestyles and a few friends banded together to make sure that the DMV was not left out.
Marvel Studios film, the Lexus LC 500 Convertible and Lexus GX made their on-screen appearances. Lexus promoted the all-new RX 500h F SPORT Performance, inspired by Marvel Studios' "Black Panther: Wakanda Forever." This luxury SUV has been created in a collaboration between Lexus' Calty North American design centre, adidas, adidas S.E.E.D.
Using the Sandlot Tysons event space at the Boro in Tysons Corner Virginia, we viewed the film at ShowPlace theaters, which is one of the nicest theaters in the area with king size reclining seats, reserved seating, a full service bar, food to order and more. After a few meetings with management, it was agreed that the theater would show the movie to the local car enthusiasts after the car show. Word of this traveled fast and the parking lot and theaters packed out quickly.
The movie was packed with nonstop action from beginning to end, with a few twists that left patrons in awe. "Family" is a key theme in this movie and after watching it, you will see why. Lexus got their monies worth, as the film displayed a few of the brands vehicles. Fans left encouraged that even without  Chadwick Boseman, who plays T'challa the Black Panther, the franchise will live on.
On this day a statement was made for the DMV car scene that there are many car enthusiasts who can measure up with the best in any city. The automotive showcase also put smiles on kids' faces that were there to see the film and enjoy all of the nice cars outside. Meguiar's was kind enough to see the vision thru and provide complete car care kits and as well as sample products for the crowd. A huge thank you must go out to Meguiar's for sponsoring, the Boro property management for allowing the meet and the ShowPlace ICON Theatre & Kitchen at The Boro for showing the film.
Please enjoy the photo gallery.