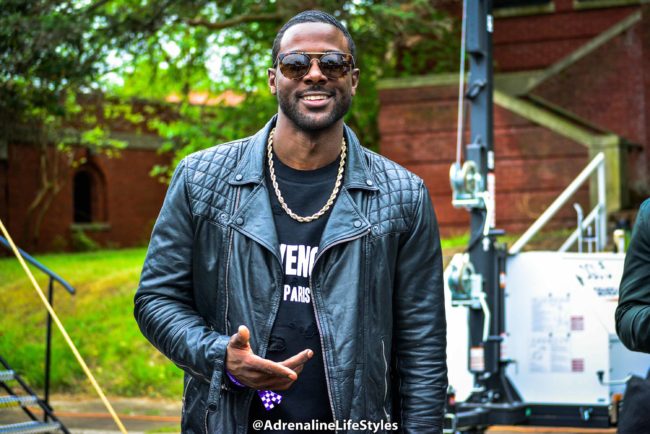 Experienced by Adrian McQueen
Photography by Adrenaline Lifestyles & Akil Ransome Photography
This past Saturday in Washington DC was an event filled one, including the Washington Capitals playoff hockey game against the Pittsburgh Penguins and the Showtime boxing matches at the DC Armory, but the place to be was the 4th annual Broccoli City Festival at Gateway Pavilion. Over 12,000 people covered Gateway DC, the former St. Elizabeths Hospital campus, for day full of fun, music, food and healthy living.  Gateway DC is an innovative and unique state-of-the-art open-air and covered pavilion in the Congress Heights neighborhood of Washington, DC. Nestled between Martin Luther King Ave and Alabama Avenue, this area is truly the heartbeat of Washington DC.  The Broccoli City Festival is an eco-inspired music and art festival that takes this opportunity to bring in urban millennials from around the world to learn about healthy eating and environmental sustainability.
Upon entering the festival grounds, patrons were greeted by the energetic Toyota Green Initiative staff with a display honoring Earth Day. Showcased were the 2016 Toyota Prius Hybrid, the 2016 Toyota Camry Hybrid and the 2016 Toyota Rav 4 Hybrid, which are all sleek in design and eco-friendly. Each vehicle is unique in its own rights and fitting for the Broccoli City Festival theme.
The 2016 Toyota Prius Hybrid is powered by a 1.8-liter 4-cylinder gasoline engine and two electric motors/generators for a total output of 121-horsepower, which are charged by a Lithium-Ion (Li-Ion) battery. The electronically controlled brake system is a great feature that sends more juice back to the battery from braking. Toyota's latest RAV4 is powered by a 2.5-liter 4-cylinder gasoline engine and two electric motors located in the front and rear. When running both the gas engine and electric motors, the RAV4 will reach up to 194-horsepower and produce up to 206 lb.-ft. of torque. The Camry Hybrid offers one engine which is a 200-horsepower 2.5-liter hybrid 4-cylinder, in a standard continuously variable automatic transmission.
The Toyota Green exhibit wasn't just a showcase of cars but yet it was an experience full of many different engaging activities. Guests were able to exercise on stationary bikes, along with showing off their strength with a pullup bar contest in the Toyota Green Fitness Zone. The Toyota staff also set up a Do-it-Yourself station where Body Scrub, Hand Sanitizer and Air & Fabric Softner were on the menu. Festival-goers were also able to shoot their own music video, alongside tunes from DJ Beauty. What a great way to show how Toyota believes in the need to  promote the ideas of ecology, encourage respect for life on earth, and highlight growing concern over pollution of the soil, air, and water. A clear message given, was that living productive and sustainable lives are the foundation of a healthy community.
The Broccoli City Festival also had a wellness center, several food trucks, live-art installations, a pop-up market, and a plethora of resources about how to live a healthier life. Throughout the park were many live art installations as well. To be in one place, with so many creative minds, was very refreshing and exciting for me and many others. Broccoli City's organizers are working to ensure that its message isn't lost amid growing popularity.
"Since we launched on Earth Day in 2013, BC Fest has showcased the most groundbreaking artists artists in music and empowered over 20 thousand millennials to become change agents in their community," said Broccoli City co-founder, Brandon McEachern. "Music is one of the most powerful ways to bring people together, so we're confident this lineup does just that and look forward to delivering another impactful event."
Tickets were also earned through the Power of One campaign. The Power of One is a campaign of Broccoli City Inc. 501c(3) that is engaging millennials to help build their communities by being active participants through community service actions. 1,500 volunteers earned a ticket to the festival by planting 125 trees, preparing 4,250 meals for the homeless, collecting 475 bags of trash, and recycling 300 bags of materials. Helping reach this great achievement were community partners Green Scheme, Serve DC, Rooftop Roots, YMCA, Groundwork, Anacostia Watershed Society, Cultivate the City and DPR.
The festival was complete with many musical acts, national and local. Washington DC Go-Go legends Rare Essence killed the One Love Massive stage performing many of their classic hits such as "Lock it", "Overnight Scenario", "Twerk" and many more.  With the amount of energy that Rare Essence brings with Killa Cal, Smoke, Whiteboy and the rest of the band, they definitely should have been on the main stage. The One Love Massive stage brought a mix of music such as Go-Go, Soul, Dance, Jazz, Punk and Funk.
The main stage sat further into the festival grounds and was decked all the way out. The stage had two Broccoli City banners on each side and a large digital screen served as the backdrop of the stage. Each side of the stage had a VIP area that was sponsored by Heineken and Bulleit Bourbon. The performer VIP area was a showcase of detail at its finest. Décor by Ros La'Fleur, cuisine was catered by Kitchen Cray and libations from Hennessy. The curators handling this aspect of the show outdid themselves.
Now on to the performances, the Internet gave a smooth set and ended by singing Happy Birthday to their vocalist, Syd tha Kyd. GoldLink, made a surprise appearance during Sango's set which amazed the crowd. Jhené Aiko's gave a great Prince tribute that touched the crowd as everyone sang along. Future finished out the show with the energy that was expected from him. The crowd response was unreal during his set, even thru the rain. There are so many hits that he could have started the show off with but he wasted no time and performed one of his biggest songs "I Thought it was a drought". The beat for this song is perfect because the tempo starts off low and mellow, sort of leading you in but once that bassline drops its pure pandemonium. Not to mention everyone loves the "Gucci flip flops" line. His final song of the night was "March Madness" and this was the song that catapulted Future's fame.
The show was hosted by Rock Creek Social clubs own Kevin "Unkle Scooty" Hallums and Washington Wizards arena host Rodney Rikai. DJ Jerome Baker III kept the crowd grooving with his unique and killer playlist. There is no debate that when the RockCreek Social club team is tasked to entertain your crowd, they will not disappoint. Community speaker and philanthropist Tony Lewis Jr. made an appearance and spoke to crowd, giving them a brief history lesson about the grounds they were on and encouraging them to volunteer and help out in the community. This event had so many more partners that helped make this festival happen with fun and engaging displays such as Pepsi, Lyft and CBS Radio/WPGC 95.5. Shoe City and Reebok setup a boutique style display showing off some of Reeboks latest fashions alongside Shoe City's custom Jeep Wrangler Sport Unlimited. Broccoli City also partnered with local nonprofits and government agencies to educate the audience about sustainable lifestyle and community solutions.
I have to send a huge thanks to the Broccoli City team for making this event happen and giving Washington DC yet another spectacular event to look forward to. The team is compiled of co-founder Brandon McEachern  co-founder Marcus Allen, Jermon Williams that is the senior vice president of communications and Darryl Perkins who is the director of programs and community engagement. There are more people involved with this project, to many to name, but their hard work does not go unnoticed and is appreciated.
In a setting like this, you are bound to have some celebrity sightings. On the scene was Sleepy Hollow actor and Howard University alum Lance Gross, SiriusXM Radio personality and DJ Sway Calloway, Keegan-Michael Key, Elliott Wilson and many others. All in all, it was definitely a great show and I can't wait to see what the Broccoli City team has in store for next year. Follow everything from the Broccoli City Festival on social media searching the hashtags #BCFEST2016, #ToyotaGreen & #ToyotaGreenInitiative