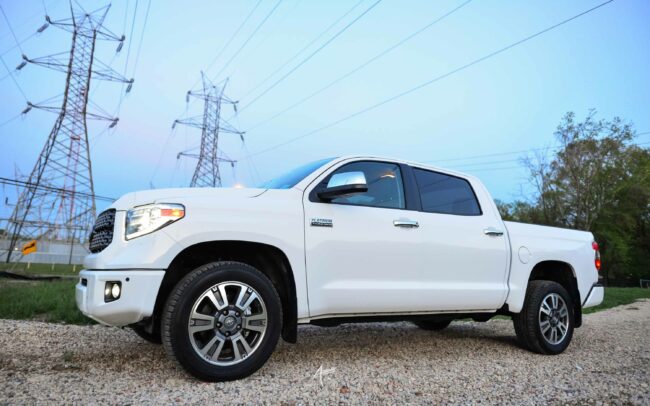 Experienced by Adrian McQueen
Photos by Adrenaline Lifestyles
Pickup trucks have progressed a lot over time as their use has grown immensely. The 2019 Toyota Tundra Platinum Crew Max 4×4 is a great example of what I mean.  The Toyota Tundra has been manufactured since May 1999. The Tundra was the first North American full-size pickup to be built by a Japanese manufacturer. The Tundra is built in Toyota's San Antonio, Texas, factory and is the only full-size pickup truck manufactured in Texas. The current-generation Toyota Tundra debuted back in 2007 and has had a few updates over the years.
Upon first look you notice the 2019 Toyota Tundra angles and big truck elements right such as the large grille, wide fenders and prominent Toyota badges. A pickup truck has become a necessity in my life. I am constantly hauling things around and the bed space makes life so much easier. Routine use of my pickup truck involves moving furniture, hauling my motorcycles, lawn equipment, large purchases, etc.
Being a family man, the crew cab is essential so that my passengers can travel along. The Tundra can seat 5 passengers. The spacious cabin lacks a luxurious feel but is comfortable for all. The Platinum edition has a spacious and comfy cabin that affords the benefit in having the room to bring the whole family aboard in my travels. In addition to the nice stitched vinyl and faux wood on their dashboards and center consoles, the Tundra includes perforated, leather trimmed, heated/cooled/powered front seats, 12-way power adjustable drivers side seat and 6-way power adjustable front passenger seat. I felt like there was more than enough leg room for the driver and passengers as well as elbow room.
The Tundra uses a 5.7-liter V-8 engine pushing out 381 hp with 401 lb-ft of torque. This 4×4 beast is a gas guzzler.  It is rated at just 13 mpg city, 17 mpg highway and 14 mpg combined. This is the thirstiest full-size pickup on the market. This powerful engine made for a smooth and stylish ride, sitting on the 20'   alloy wheels. It makes for a quiet and comfortable highway ride. The Tundra is offered in three cab styles, three bed lengths and in two or four-wheel-drive. The model tested was the crew max edition, with a bed that was a little over 5ft. long. When purchasing, I would prefer a bed that was bit longer. The Tundra can be purchased with either 5.5-, 6.5- or 8.1-foot beds. The beds are just that, beds. The Tundra is missing certain features that pickup trucks have started to come with such as easy-lift tailgates that fold into a workspace, built-in storage bins and steps.
Sound is extremely important to me and the Entune premium JBL sound system in the Tundra blew me away. I was impressed with the clarity in the speakers and impressed that the subwoofer hit hard with the rumbling of the deep bass.  The 7" hi res touch screen comes with a navigation system, XM radio, Bluetooth and much more. More importantly, this system was user friendly with identifiable icons and not a bunch of excess menus, just to get to the apps. With a few taps of my finger, I need to efficiently get to what I need. Unfortunately, Apple CarPlay and Android Auto are still not available.
As far as safety is concerned, the 2019 Toyota Tundra comes with dual front, side-front, and side curtain airbags as well as standard knee airbags for the driver and front passenger. The Tundra also has standard equipment that includes adaptive cruise control, emergency braking with pedestrian detection, lane-departure warnings, and automatic high-beam headlights. The National Highway Traffic Safety Administration rates the Tundra at four stars overall and the Insurance Institute for Highway Safety gives the Tundra a score of "Good". One should feel well protected with these safety features.
The Toyota Tundra's key competitors are the 2019 Ford F-150, 2019 Ford F-150 Raptor, 2019 Chevrolet Silverado 1500, 2019 GMC Sierra, 2019 GMC Sierra Denali, Ram 1500 and the Nissan Titan XD. Overall this is a great truck, a pure head turner and will measure up well in the pickup truck market. Enjoy the photo gallery.