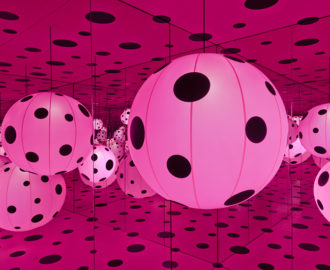 About a month ago, my Instagram and Twitter timeline started to blow up with the hashtags #InfiniteKusama and #InfinityMirrors. I was immediately intrigued because I have never seen or experienced anything like this before. Infinity Mirrors by legendary Japanese artist Yayoi Kusama has chosen Washington DC as the first stop on the North American tour. The bright lights, colors and mirrors pulled me in and sent me straight to the Smithsonian – Hirshhorn Museum and Sculpture Garden website to see how I could get in the exhibit. The exhibit is a collection of psychedelic art that appears to go on for infinity.
Admission is free to get in the exhibit, but this is the hottest ticket in town with the tickets being extremely difficult to obtain. The free timed passes are released online every Monday at noon for the following week and sell out in a couple minutes. Another option is to try your hand at waking up early and waiting in line for a limited number of same-day "Walk-Up Timed Passes" that are available at the Museum. The third option is to grab a Hirshhorn membership that has free anytime passes along with many other perks that the museum offers. I chose to become a member so that I could assure myself this experience along as many more exhibits that are on the upcoming schedule. In under 10 minutes, the exhibit sold over 9,000 tickets causing the website to crash.
The exhibit allows you to experience six of Yayoi Kusama's Infinity Mirror rooms. The lines flow fairly smooth as your time in each exhibited is timed and controlled by the Smithsonian staff. Have your cameras ready for snapping as you enter the exhibit but don't forget to absorb it away from the lens and enjoy the experience. The rooms in the exhibit are titled "Phalli's Field", "Love Forever", "The Souls of Millions of Light Years Away", "Dots Obsession—Love Transformed into Dots", "Aftermath of Obliteration of Eternity" and "All the Eternal Love I Have for the Pumpkins." Each room is unique but still keeps the theme of "forever".
I thoroughly enjoyed the exhibit and strongly encourage anyone in the mood to be entertained and enlightened to go see it. After the Washington DC debut, the show will travel to five major museums in the United States and Canada. See below for the tour schedule and be sure to catch when it touches down in the city nearest to you.
Hirshhorn Museum and Sculpture Garden, Washington, DC, Feb 23–May 14, 2017
Seattle Art Museum, June 30–Sept 10, 2017
The Broad, Los Angeles, Oct 21, 2017–Jan 10, 2018
Art Gallery of Ontario, Toronto, March 3–May 27, 2018
Cleveland Museum of Art, July 9–Sept 30, 2018
High Museum of Art, Nov 18, 2018–Feb 17, 2019
Experienced by Adrian McQueen